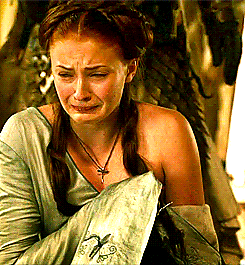 This blog is made possible thanks to
GoDaddy coupon 199scott
. It get's you a blog for only $1.99.
Game of Thrones this week was pretty good, not the usual fast-paced thrill loaded episode that I usually expect, but very good none-the-less.
What we did learn this week was a lot about Littlefinger. The pilot of the show opens with Robert Barathon's Hand of the King, Jon Arryn killed by poison. THAT Jon Arryn is the husband of Lysa (who is Catelyn Stark's sister). That is what caused Robert to ask Ned Stark to be his new Hand of the King. From there, it all went downhill.
That, my friends, was all orchestrated by none other than Littlefinger.
That's huge.
On to poor Sad Sansa. Once upon a time, all she wanted to do was get married. She would chatter away like a school girl about it. Well, Sad Sansa, you are suddenly aware that your whole role in life seems to be getting promised off to marry other people without even the slightest bit of your consent. Joffrey was obviously the worst, but this little bugger? He can't be far off. The new plan is for her to be married to her aunt's son, Robin. Oh, Lord. From one crazy to another.
As always, the show is very good. I'm hoping we get a little bit more of Jaime and Tyrion Lannister next week, as they are so deliciously amazing.
For more information about GoDaddy, please visit http://www.scottsigler.com/godaddy-promo-codes.